Registration Checklist
To finish the registration process, we kindly ask that you complete some important items below this week. If you have any questions, please contact us at Team@LeadAZ.org or call us at 480-779-4823.
Student:

Pre-Program Survey: Click HERE.
Student Photo: Email a headshot to Team@LeadAZ.org (this will not be posted or shared).

Parent:

Fill out the SignNow permission form. If you did not receive it in your inbox, please check your SPAM folder. If you cannot find it, please notify us through email: Team@LeadAZ.org.

Both:

Review the course schedule below.
Review the drop-off and pick-up locations below.
Subscribe to our YouTube channel to see our latest lessons.
Share this coupon with Friends & Family! If they register, we'll send you a FREE copy of our leadership eBook!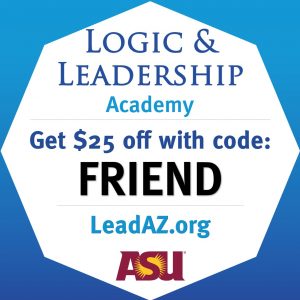 Schedule
Program information:
Location: LeadAZ Private School
Five days | Monday – Friday
Main session | 9:00AM – 3:00PM
Friday Closing Ceremony Luncheon | 12:30AM – 1:30PM
Friday Final Company Presentation | 1:30PM – 2:30PM
About the Final Project (2023):
Students will meet with a business executive and assist them in a creative project. Students will present their results on Friday following the Closing Luncheon to that business. Parents are more than welcome to attend.
What you need: 
If you have a laptop, bring it!
Mon – Thurs Business Casual clothes | This is not mandatory, but it's a good opportunity to practice being in a professional environment (Polos, khakis, dresses, button-ups, slacks, etc.).
Friday Business Professional clothes | This is for the Final Presentations. Business professional includes: tie, clean shoes, jacket, "clean" look.
Lunch will be provided every day | Students can bring their own food. LSA will provide catering from any of the following: Subway, Pizza, Cafe Rio, Italian, Other. Students will be notified of food options ahead of time (the morning of) and will have a say in choosing.
Water bottle | It's Arizona.
*LSA will be providing snacks throughout the day. Donated by PepsiCo, Coca Cola and Frito-Lay.