Getaway Checklist
To Do's:
Parents:

You should have received a permission form from Sign Now. If you have not, please let us know.

Students:

Biography:

Download and fill out the BIOGRAPHY [Please submit as a PowerPoint. NO PDF]. Email to Team@LeadAZ.org.
If you don't have PowerPoint, send us a Google Slide [LIKE THIS ONE] – and share with Team@LeadAZ.org.
Drop Off / Pick Up Location: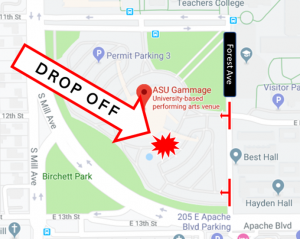 Important Information: 
Packing List – View PDF
Drop Off / Pick Up at ASU Gammage, Tempe AZ
Getaway Location – View PDF
Sleeping Accommodations:

The cabin is large and has two components (main cabin and bunkhouse) that are connected.
There are 5 rooms. Each has multiple beds. Students share rooms, but have separate twin beds (bedding included).
Boys and girls are separated and sleep in different parts of the cabin.
Doors between both parts of the cabin are locked and monitored via camera feed.
There are male and female instructors that come to each camp.
Male instructors sleep on the boy's side of the cabin and female instructors sleep on the girl's side of the cabin. All instructors sleep in room separated from the students.
Instructors stay up until the last child goes to bed.
If you have any further questions or specific concerns, please email team@leadaz.org
Program Schedule
Day 1 –  9AM departure from ASU
Day 2 – Full day in Strawberry, AZ
Day 3 – 4-6PM arrival at ASU
Eligibility Disclaimer
Our Leadership Getaways do not require students to submit applications, but before signing up, we encourage all parents to consider the nature of this camp and the maturity of their children. The underlying goal of this program is to teach students leadership, responsibility, accountability, and respect for others. As such, we maintain minimal rules and restrictions so students have the freedom to develop personal accountability. For this learning environment to work, we have a zero-tolerance policy for the following behaviors:
Bullying of any nature (mental or physical).
Violence, excessive roughhousing, or reckless behavior.
Law-breaking of any kind.
Intentional destruction of property.
Deliberating evading adult supervision (violating curfew or room restrictions).
If your children have a history of behavioral issues or you do not believe they can respect this learning environment, please contact us right away: Team@LeadAZ.org. If students violate our policy, they will be sent home immediately without refund, and parents will be responsible for any extra travel costs associated with transportation.
Questions?
Email us at Team@LeadAZ.org or give us a call at (480) 779-8592