FREE Family Leadership Workshops
Stronger families create stronger communities.
Our Family Leadership Workshops are designed to teach simple laws of nature that are proven to make your life easier and more successful. In each workshop, we address a specific problem area known to cause more stress at home. But, this is nothing like a classroom or a regular seminar, it's FUN and INTERACTIVE!
Join Leadership Society of Arizona in partnership with the International Facility Management Association at these one of kind FREE workshops!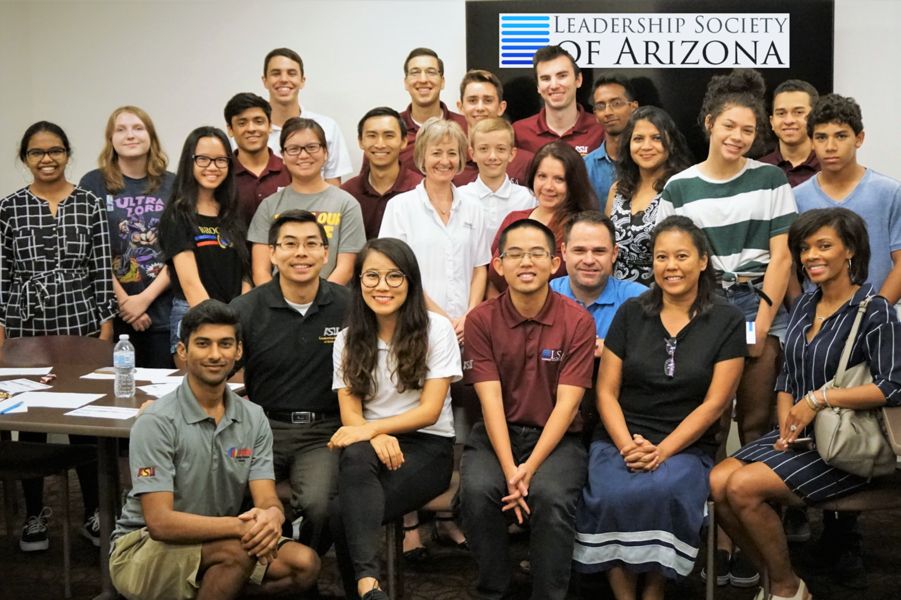 Simple Ideas That Will Change Your Life!
February 23 | 10am – 12pm
"I don't have a choice" – Making the most out of any situation
Location: ASU Tempe | Student Pavilion (map)
Homework, going to the dentist, cleaning the toilet, babysitting your siblings, talking to Grandma on your birthday—are there things in your life you wish you didn't have to do?Whether you call them chores or burdens, nobody really wants to do them, but you should. Everything happens for a reason. Your chores are part of your life, so they are part of your identity. In this workshop, we will crack the code behind chores. You will understand what your chores say about your personality, and how you can streamline them, so you have more time do what you love. 

Spaces are limited, please only RSVP if you know you can attend.
---
March 30 | 10am – 12pm
Reading Your Fortune – Discovering your future career
Location: Sundt Construction | 2620 S 55th St, Tempe, AZ 85282
Meet Steven. Steven gets decent grades. He's the star pitcher, but he's not good enough for the major leagues. Steven is going to college in two years, but he has no idea what he wants to study or what he'll do when he graduates. His parents' jobs sound boring, and he doesn't really love any subject in school. What would you tell Steven?Most people think that finding a career is about learning as much as you can about the world and trying new things. We don't agree. We would tell Steven that when he knows more about himself, he'll know his future. In this workshop, we'll teach you the secrets to figuring out who you are, what you're good at, and where you will add the most value.
---
April 27 | 10am – 12pm
Social Medium – The secret to networking and becoming popular
Location: Knight Transportation | 20002 N 19th Ave, Phoenix, AZ 85027
"I don't like that man. I must get to know him better" -Abraham Lincoln
In movies, popular people are always rich, pretty, and talented. In the real world, those things eventually fade away (just ask your uncle who doesn't stop talking about his high school glory days). Being popular is all about being well-liked. Before people like you, you have to learn to like them. The only way to like and to be liked, is to understand others. As you learn to understand why people are who they are, you will automatically become kinder, wiser, and more likable. In this workshop, we will teach you all the shortcuts for understanding people and building good relationships.
FAQ
Where are the workshops located?
Each workshop will be a different location across the Phoenix Valley. Local businesses and institutions have opened their doors and graciously offered to host workshops and offer tours of their local facilities. This is a great opportunity for students to learn and network with local business leaders.
What are the workshops about?
The overall theme of our workshop series is using natural laws of success to simplify your life. Success is the result of daily habits and principles. Through 25 years of research, we have narrowed down the best practices, or "natural laws", that make people more successful. Each workshop will feature a different natural law of success.
Where does the LSA leadership methodology come from?
LSA's leadership material is sourced from the Information Measurement Theory (IMT), a logical model developed by Dr. Dean Kashiwagi over 30+ years in the industry and  academia conducted at Arizona State University. You can find out more about IMT and Dr. Dean's global research efforts by visiting his website HERE.
Who will be teaching at the workshops?
Various members of the LSA team will teach and facilitate each workshop. Each member of the LSA team holds a Master's or Doctorate degree in engineering or management. At each workshop, the site host will share a brief presentation about what their company does, how it helps the community, and any opportunities they have for students. Certain workshops will feature guest keynote speakers.
Is parking free?
Parking is free at all sites except for Arizona State University.
Will food be provided?
No, but we will provide light refreshments.
Who can attend the workshops?
Workshops are open to anyone in the community (parents, students, or professionals). The workshops are geared towards students ages 13 and up, but you are welcome to bring your younger children.
Can adults attend?
Yes! The workshops are geared towards high school students, but the whole family can benefit.
Can I bring younger children?
The workshops are aimed at students and adults ages 13 and up, but you are welcome to bring your younger children.
Can I pick and choose which workshops to go to?
Yes! You do not have to attend every workshop. You can choose the ones you think you will enjoy most.
Are the workshops mainly lecture style?
No. We understand that at the end of the day, parents, professionals and students do not have a lot of bandwidth left to listen to a long lecture. Our focus is to create a dynamic and interactive environment that fosters better learning. We only lecture for 15 minutes, and the remaining time will be used for activities and other means for learning or drawing meaningful conclusions. Everything we teach is simple, and immediately implementable in your life.
What if I am a shy person, but still want to attend these interactive workshops?
If you are a shy person, you have come to the right place. Our main goal is to nurture and care for all of our participants to ensure maximum comfortability. We will never ask or force you to do anything that you are not ready for. You are amongst friends and your fellow community members. The workshops are a safe place, where you can come to relax, listen, and take whatever you want from it. Whatever conclusions you come to, we believe are the right ones.