FREE Family Leadership Workshops
Stronger families create stronger communities.
Partnered with top organizations in the valley, LSA's Family Leadership Workshops are designed to teach simple laws of nature that are proven to make your life easier & more successful. In each workshop, we address a specific problem area known to cause stress at home and at school.
But, this is nothing like a classroom or a regular seminar, it's FUN and INTERACTIVE!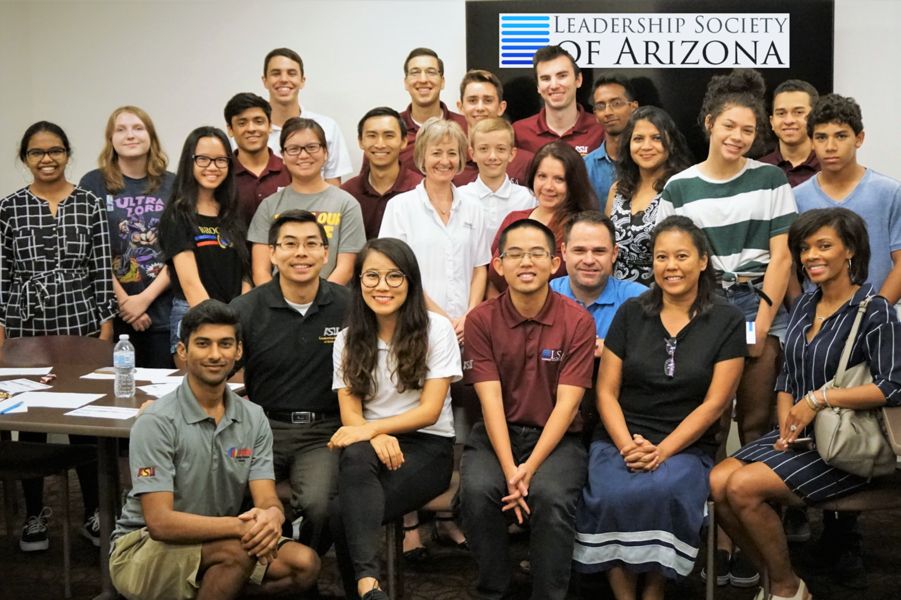 October 19 | 10am – 12pm
Social Confidence – Feeling More Comfortable Working with Others
Location: University of Arizona, Phoenix HSEB Rm B202 | 435 N 5th St, Phoenix, AZ 85004 (Google maps)
Why do group projects feel like more work than they're worth? Why is it awkward to teachers about your grades? Why is it exhausting to meet new people?
Many people believe that you're either born introverted (anti-social) or extroverted (very social), but socializing is a skill. It's never too late to learn! Life is easier when you're more comfortable in social settings. You do less work, you stress less, and you make more friends. In this workshop you'll learn the basics to learning the right social skills, so you never have to feel awkward around others.
How to value people
Utilize expertise
Overcome awkwardness
After arriving home from the workshop, my son expressed on his own: "Thank you for taking me to the workshop! I really had fun and learned stuff too!" It's fair to say, we'll be seeing you at future workshops!
Alysson A. (parent)
November 16 | 10am – 12pm
"Use the Force" – Make Life Easier by Developing Your Intuition
Location: City of Scottsdale | 9191 E San Salvador, Scottsdale, AZ 85258 (Google maps)
Even if you haven't seen Star Wars, you've probably heard of the Force. Well, the Force is real… kind of. At LSA, we haven't figured out how to lift rocks with our minds yet, but we have mastered the ability to feel the Force. Star Wars got it right: everything in life has a feeling. Our feelings guide us even when we're not thinking clearly.This is called intuition, and it's very real.In school, you're taught to memorize information and analyze the facts. Sometimes the facts don't make decisions any easier. Sometimes the facts make us more confused. That's where feeling comes into play.
In this workshop, we will teach you how successful people use intuition to stop worrying, simplify decisions, and make life easier. Just like practicing memorization, you can practice intuition.
There are 2 types of observation: Intuition/Feeling and Knowledge/Information
Everything has a feel (intuition)
We can rely on intuition when we can't see all the facts

December 7 | 10am – 12pm
Tidying Up Your Life – Clearing your schedule & cutting out stress
Location: Sundt Construction | 2620 S 55th St, Tempe, AZ 85282 (google maps)
Does everything in your life inspire joy?
Earlier this year, Marie Kondo blew up Netflix with her Tidying Up series. In her show, she helped people organize their homes and discover what possessions had meaning in their lives. When something didn't inspire joy, Marie taught to get rid of it. It's easy to get rid of old stuffed animals, but it's much harder to get rid of habits or commitments. In this workshop, you will learn the proven method to overcoming undesirable habits, cleaning your schedule, and organizing your life. The secret is learning how to change.
Before throwing everything away, we must change
To change, we need to know what to change
Make a plan to replace the habit
Simple Ideas That Will Change Your Life!
The following women's only workshop is in partnership with Fresh Start Women's Foundation, and is a session in their Girls Thriving! workshop Series. All attendees must be accompanied by an adult and must RSVP on their website (linked below).
September 21 | 9:30am – 12pm
Discover the Secret to Success & Happiness
Location: Fresh Start Women's Foundation, Phoenix | 1130 E McDowell Rd, Phoenix, AZ 85006  (map)
Join us for our September session of Girls Thriving and learn the secret to success and happiness. Feel more confident and find your motivation! Learn how successful women in history have reached their goals by practicing self-acceptance and embracing their personal brand.

Spaces are limited, please only RSVP if you know you can attend.
Visit this link
Select September 21 on the calendar
Click "Continue" on the 9:30am session
Fill-out your information and complete your appointment!
The below is a 3rd party ride-sharing opportunity for students.
Get $5 off your first ride with code: LEADAZ
VanGo is like an "Uber for Kids", and provides rides for pre-teens and teens with local, vetted drivers. All drivers have 3+ years of childcare experience, and over 85% are moms! You can request rides directly through the VanGo app, available on the App Store and Google Play, up to four weeks in advance. VanGo serves the Phoenix, Scottsdale, and Mesa areas.
FAQ
Where are the workshops located?
Each workshop will be a different location across the Phoenix Valley. Local businesses and institutions have opened their doors and graciously offered to host workshops and offer tours of their local facilities. This is a great opportunity for students to learn and network with local business leaders.
What are the workshops about?
The overall theme of our workshop series is using natural laws of success to simplify your life. Success is the result of daily habits and principles. Through 25 years of research, we have narrowed down the best practices, or "natural laws", that make people more successful. Each workshop will feature a different natural law of success.
Where does the LSA leadership methodology come from?
LSA's leadership material is sourced from the Information Measurement Theory (IMT), a logical model developed by Dr. Dean Kashiwagi over 30+ years in the industry and  academia conducted at Arizona State University. You can find out more about IMT and Dr. Dean's global research efforts by visiting his website HERE.
Who will be teaching at the workshops?
Various members of the LSA team will teach and facilitate each workshop. Each member of the LSA team holds a Master's or Doctorate degree in engineering or management. At each workshop, the site host will share a brief presentation about what their company does, how it helps the community, and any opportunities they have for students. Certain workshops will feature guest keynote speakers.
Is parking free?
Parking is free at all sites except for Arizona State University.
Will food be provided?
No, but we will provide light refreshments.
Who can attend the workshops?
Workshops are open to anyone in the community (parents, students, or professionals). The workshops are geared towards students ages 13 and up, but you are welcome to bring your younger children.
Can adults attend?
Yes! The workshops are geared towards high school students, but the whole family can benefit.
Can I bring younger children?
The workshops are aimed at students and adults ages 13 and up, but you are welcome to bring your younger children.
Can I pick and choose which workshops to go to?
Yes! You do not have to attend every workshop. You can choose the ones you think you will enjoy most.
Are the workshops mainly lecture style?
No. We understand that at the end of the day, parents, professionals and students do not have a lot of bandwidth left to listen to a long lecture. Our focus is to create a dynamic and interactive environment that fosters better learning. We only lecture for 15 minutes, and the remaining time will be used for activities and other means for learning or drawing meaningful conclusions. Everything we teach is simple, and immediately implementable in your life.
What if I am a shy person, but still want to attend these interactive workshops?
If you are a shy person, you have come to the right place. Our main goal is to nurture and care for all of our participants to ensure maximum comfortability. We will never ask or force you to do anything that you are not ready for. You are amongst friends and your fellow community members. The workshops are a safe place, where you can come to relax, listen, and take whatever you want from it. Whatever conclusions you come to, we believe are the right ones.