Student Success Story: Belinda Flores-Ocampo
March 24, 2023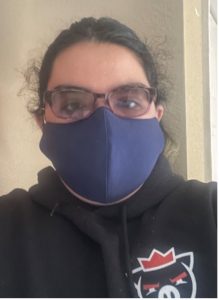 In this Leadership Spotlight, I have the honor of introducing Belinda Flores-Ocampo! Belinda is a 15-year-old high school freshman at NFL YET College Prep Academy. Belinda has been with the Valley Guardian program since August 2022. Despite the fact that she is only in her very first year of high school, Belinda is an extremely involved student! During the school day, Belinda plays in her school's band and takes classes in a wide variety of subjects. Belinda also goes above and beyond by taking on even more academic work outside of her classes by attending tutoring twice a week! Outside of school hours, Belinda is a student athlete on her school's basketball team, she takes part in regular meetings of the Dungeons and Dragons club, and she even just joined the school hiking club. She is particularly fond of D&D club because she is able to connect closely with other club members during meetings as they take on the work of devising elaborate strategies to get through their campaigns. Even with all of her activities inside and outside of school, Belinda still makes sure her chores at home are completed each and every week. She has also already had real-world work experience at a restaurant job last summer. 
In Belinda's own words, she decided to join the Valley Guardian program "because it sounded like a good opportunity to go to college without worrying too much about the cost…and it also sounded fun!"
I have certainly had a great deal of fun serving as Belinda's mentor! Nearly every Friday afternoon for the past five months, Belinda and I have gotten together to discuss life, her worries about the present, and her goals for the future. I then put together specially curated activities for Belinda and me to complete together in the hopes of eliminating her current worries and achieving her future goals! For instance, when I first met Belinda, she was a quiet and shy student who worried about making good, trustworthy friends in high school, a concern that I myself can relate to. After several weeks of discussing past friendships, strategies for making new friends, and plans for meeting new people, Belinda began leaving her old fears behind and forming new connections. Fast forwarding to today, Belinda has been successful in making new friends in high school and I could not be more proud of her! When she was asked about the impact of this program, she stated:
"The Valley Guardians coaching program has made a huge impact on how I see my future and in helping me figure out what I want."
Her mother also commented, "The Valley Guardians coaching program has helped my daughter figure out what she wants to do later in life. The number of times she meets with her coach is amazing. It has helped a lot."
Even though Belinda is still just at the start of her high school journey, Belinda already has her eye on the ball when it comes to college planning! Belinda made sure that college scholarships and the college application process were some of the first topics we addressed during our mentorship sessions. Belinda is currently interested in the possibility of attending Arizona State University or Grand Canyon University to pursue her undergraduate degree. She even has plans for her field of study: history! Belinda is very passionate about the happenings of the past and can have hours-long debates about historical events. 
In conclusion, Belinda's commitment to self-improvement and to applying what she learns from her Valley Guardians mentorship are evident in her ever-improving grades, her new friendships, her increased professionalism, and in so many more details of her life. I am so excited to see how far Belinda has come already, and I am even more excited to see how far she will continue to go in the future! Thank you, Belinda!
About The Author
Sofia Atencio is a success coach intern at the Leadership Society of Arizona.