Logic, Leadership, & Life Skills
At Arizona State University
What is the key to success for teens and young adults? Success isn't just about doing well in school or getting into a good college. Being successful is about discovering your strengths, mastering your emotions, and adding value wherever you go. A child is only truly successful when they learn to be happy and confident with who they are.
Happiness is the goal at this one-of-a-kind youth summer camp! Hosted at Arizona State University, the Logic, Leadership, and Life Skills summer program is the only place where teens can complete licensed professional development training. We've taken college-level curriculum and turned it into a fun and interactive 4-day course. Students will set new goals, learn leadership skills, and get individualized attention from our certified teen life coaches.
Come see why 9 out of 10 parents say this program changed their kids' lives!

| | | | |
| --- | --- | --- | --- |
| ASU Campus / Session | 2024 Dates | Open Seats | Save Your Seat! |
| Tempe Session A | May 28 – May 31 | RSVP TODAY | RSVP |
| Polytechnic (Mesa) Session | June 3 – June 6 | RSVP TODAY | RSVP |
| Tempe Session B | June 10 – June 13 | RSVP TODAY | RSVP |
| West (Glendale) Session A | June 18 – June 21 | RSVP TODAY | RSVP |
| Tempe Session C | June 24 – June 27 | RSVP TODAY | RSVP |
| Tempe Session D + Alumni Week | July 8 – July 11 | RSVP TODAY | RSVP |
| West (Glendale) Session B | July 15 – July 18 | RSVP TODAY | RSVP |
Make sure to check our overnight sleepaway camps as well!
What is included in the program?
Program information:
Price: $350
Location: ASU Campuses (see ASU maps)
Open to Students Ages 12 – 18
4 days of Leadership Training (Monday – Thursday)
Main Session | 9:00AM – 2:00PM
Optional Career Prep | 2:00PM – 3:00PM
Family Night Award Ceremony | Friday 5:00PM – 7:00PM
For more information see our FAQ at the end of the page
All graduates will receive:
Leadership Training Certificate (20 credit-hours)
Booklets and curriculum materials.
"The last day of class, both of my children said they wished it was longer. It was informative AND fun! They loved it. How many summer school classes get that kind of reaction?"
What do the students learn?
This program introduces students to our Natural Laws of Success. These principles come from a business management model developed through 28+ years of research and 2,000+ global projects valued at $6.6 billion!
Every day, students attend a 45-minute guest lecture from business professionals. For the rest of the day, students are separated into groups where they will complete activities and team-building exercises to reinforce core concepts.
To Learn More, Try Out One of Our Free Online Courses
Daily Curriculum
Day 1: Natural Laws and Personal Success
Defining problems
Simplifying decision making
Understanding cause & effect
Making plans and setting goals
Day 2: Understanding the Human Mind
Observation versus over-thinking
Characteristics of success people
Making schedules and managing time
Asking for help from others
Managing stress, relaxing the mind, and meditation
Day 3: Improving Relationships
Understanding strengths and weaknesses
Self-expression
Conflict resolution
Finding good mentors
Day 4: Applied Leadership
Redefining leadership
The power of accountability
The business of being kind
Public speaking and presenting
Acting like a leader even when you're shy
Day 5: Closing Ceremony
Students and families are invited to attend our closing ceremony and graduation at Arizona State University! Students will receive their certificates of completion and a select few students will have the opportunity to share their final presentations [see past presentations here]! Food will be provided!
What is Alumni Week?
During Alumni Week, we invite all of our past students to come back to our summer program for a special follow-on session. This week will feature all new lessons and activities for continual growth. The week will follow the same schedule culminating in a closing ceremony, but the content will be new. First-time students are welcome to attend as well!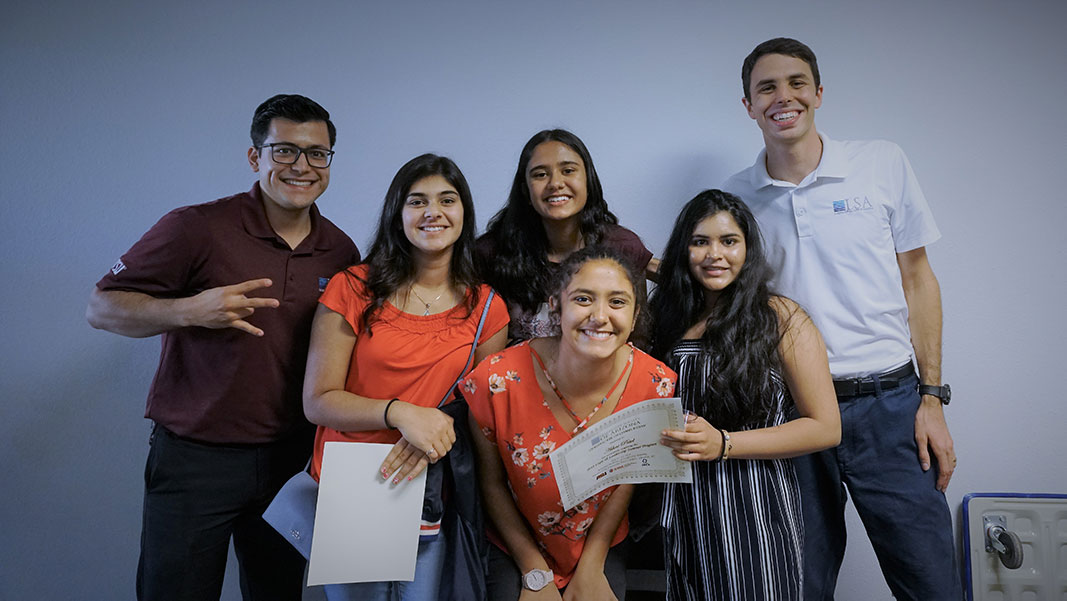 "This was a fun camp, the learning was taught in a way I didn't imagine. We played and learned without thinking. This camp was not like any camp ever!"
Instructors
Our team of instructors is unlike any other mentor you will find for teens. Each instructor has completed their doctoral program in advanced areas included engineering, supply chain management, project management, and professional development. In addition, instructors must complete, at minimum, five years of industry training and licensing. This ensures that what we teach is relevant to current professional settings. On top of completing their training, our instructors also volunteer in our teen life coaching and success coaching program. Together, they have worked with thousands of students in classrooms, presentations, and one-on-one coaching. Click on the coaches pictures below to learn more about them.
FAQ
Is there an age requirement for the summer program?
This Summer Program is open to all students between 7th-12th grades. Students who are starting 7th grade in the fall may attend.
What is the deadline to get into the summer program?
There are no deadlines for the summer programs but each session has a limit of 60 students. When the limit is reached, registration will close for that session. Students should try to sign up as soon as possible in order to secure a slot in our summer program.
Is there any way to learn more about the program?
Yes, you can learn more about our programs by exploring our free courses or by emailing us at team@leadaz.org.
Does my child have to attend the full program?
No, students can come to whatever portion of the program they want, but we cannot accept partial payments for partial attendance. We recommend students to attend the full program in order to gain the full experience and knowledge.
What is the cancellation process?
As a non-profit organization, we strive to provide services at cost. Because our summer programs are crucial to our sustainability, we have created a refund policy that provides us flexibility and guarantees fairness to students in our network.
If the camp is not fully booked, purchases may be canceled up to 30 days prior to the start of the program with an admin/transaction fee of $25.
If the camp is or becomes fully booked, refunds will only be offered if (1) a refund is requested more than 30 days prior to the start of the program and (2) LSA can fill the vacancy. There is an admin/transaction fee of $25.
Does the Logic & Leadership Life Skills summer program include an overnight option?
No. Out-of-state students will have to arrange their own accommodations. We do offer 3-Day Getaways. Find out more here.
Is lunch provided?
No, lunch is not provided. Each student is required to bring their own lunch and water. Students will be given a break and escorted to nearby fast-food restaurants offered on the ASU campus. Snacks will be provided.
Can I pay for the summer program in easy payments?
Yes. This will be dealt with case by case. To request this option, please email Team@leadaz.org
What are the COVID procedures during the program? 
Each program will abide by all CDC-recommended guidelines (CLICK HERE).